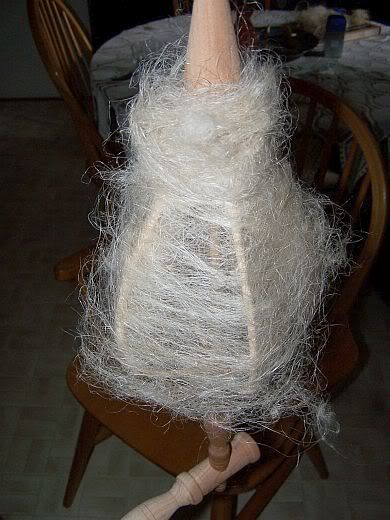 Since I'm planning to spin some flax in public next weekend, my fingers needed some reminders..a little practice was in order.
Using some flax tow that came off the hackle (Tow is the shorter and or broken pieces that came out in the hackling from the line flax), I dressed the tow distaff that I picked up at the Mannings in June. I placed it on my Ashford Traditional Wheel. The flax from the hackle was rather knotted and wadded up, so I just teased it with my fingers, and spread it out on the table before dressing the distaff. It seemed to work out well enough, there were some areas that slid to the top and got bunched up, but they pulled down easily.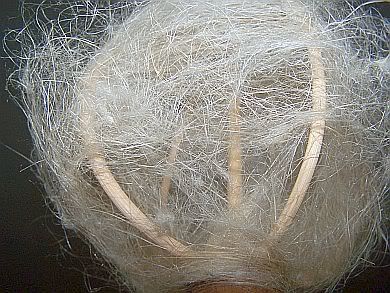 The flax magically untangles itself on the way to the bobbin. This makes me very happy. I find myself entranced by the thin strands passing down from what seems like a nest of grass. Occasionally, I will dip my fingers in the water pot and smooth down a slub before allowing it to wind on the bobbin. I'm not worried about a few slubs coming from this tow. They will be an interesting addition to whatever project I decide to use this linen thread for.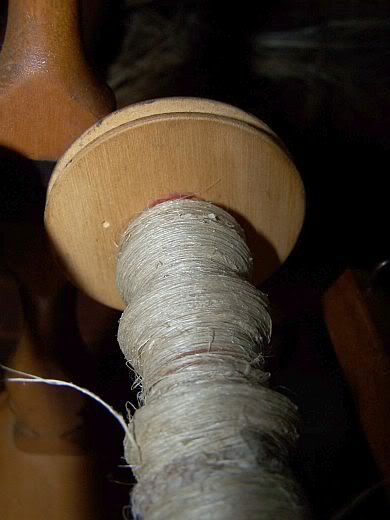 An hour or so later, my bobbin reveals a sample of what the overall thread will look like. And I am satisfied with the results. I imagined that the tow would be really lumpy and hairy, but I discovered that it wasn't half bad.
I will most likely ply this. The length of the individual fibers was short and inconsistent, so I think it needs to be plied and that will reinforce the strength of the finished thread.
The singing has started, "6 more weeks" they say...
...you may find the songsters in the most unlikely places...you just have to look for them!