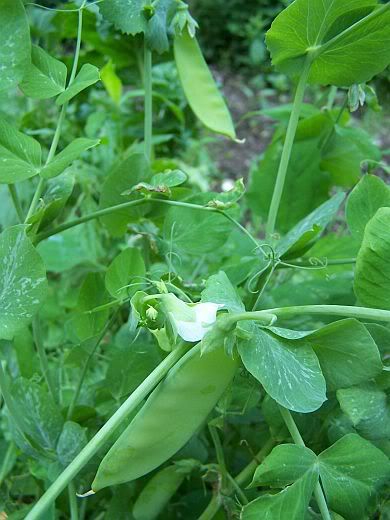 The peas are starting to come in now. It is a good year for peas..I eat most of them fresh, along with the tendrils...in salads. They are tender and taste so good! These are dwarf snap that I planted in April. I also have a row of Norli that I planted for my seed bank. They are only about 2 inches high right now. Yesterday afternoon I picked peas. Some of them make it into the steamer, and taste delicious lightly steamed.
The rest of the garden is growing fast with all of the rain we have been having. Take a look at the difference...this photo of the tomato bed was taken a few weeks ago...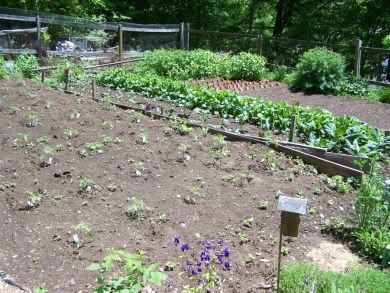 And this photo was taken yesterday...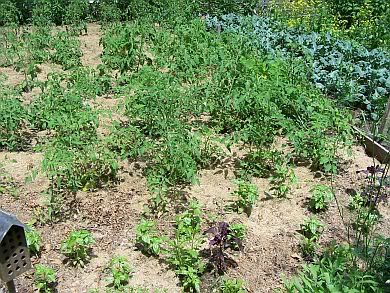 I have some of them in cages, but still need to stake the rest of them. We didn't use the trellis this year, so we are trying something a little different. Trellising works well for early ripe tomatoes in a climate that stays cool for the most part. I hope these will be ready before September! Most of them are showing flower. I mulched them heavily with the grass clippings from the mower...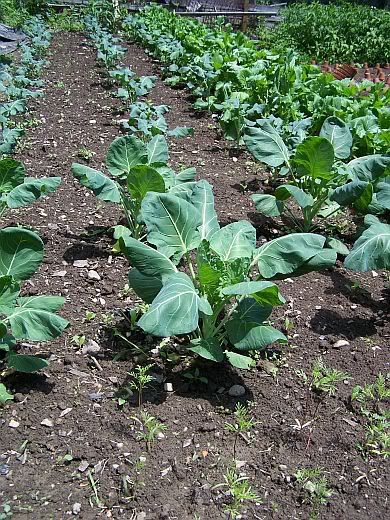 This is the broccoli bed..I have brussel sprouts in the foreground.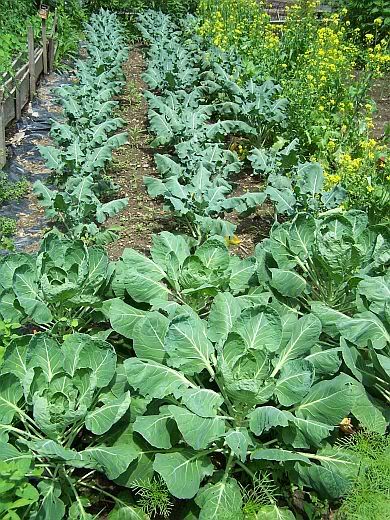 They have really taken off. I haven't grown brussel sprouts in years, and I am pleased to have gotten these off to an early start. Brussel Sprouts require a fairly long growing season, but thankfully, they can take a few frosts...
The yellow flowers on the right are the broccoli rabe flowers. We have been enjoying our share of the broccoli rabe, everyone has had enough, and the freezer is full. I'm letting some of the plants go to seed. This was the best crop of broccoli rabe I've ever raised. The seed came from Johnny's Select. I started some inside and transplanted them, but the ones that were direct sown, did just as well if not better. I will direct sow broccoli rabe from now on. It is such a tiny little seed, surprisingly, the plant gets pretty big. Once this seeds up, I will pull it and dry it, and plant carrots in the same place.