Woke to snow that had fallen overnight, but didn't get up the energy to go out in it until much later in the day. Kitty and I had the same idea.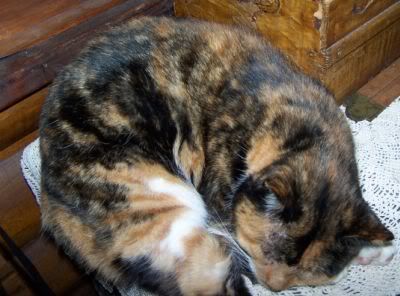 By mid-afternoon I finally put on my boots and ventured out. Chickens and rabbit were tucked in for the storm yesterday....yes, now I only have one rabbit...my old grey doe passed away overnight a few days ago. It was time, she was blind and becoming lame. She lived a long life, and it was hard to say goodbye. She was the last of the rabbits that I had raised here at the riverrim. Here is a photo of her in younger years...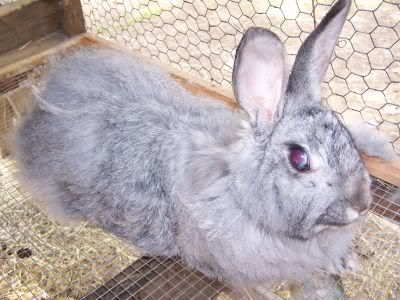 It stopped snowing in the middle of the day, but they warn the storm is not yet over. Ice and rain are promised. So far there is about 5 inches. We swept it away, choosing not to reach for the shovel ....yet.
Outside, the only sounds one can hear are the river, and an occasional brave chick-a dee-dee-dee. It is quite cold. The world seems black and white.
The color is inside these days, where the light is, where the warmth is, where there is a certain sense of calm just snuggling in to my rocking chair and knitting on the border. I have attached one side to the shawl, and have a few more inches to go on the other side. Yawn. Here kitty, kitty!