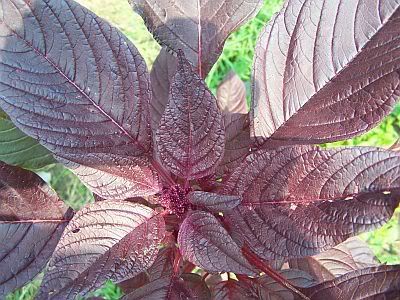 So I have been trying for years to get a true red color out of this Hopi Red Amaranth. I have researched most everything I can get my hands on, and have started to wonder if it is at all possible to get red dye for wool out of this plant.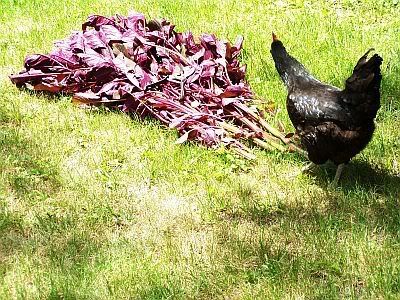 Based on what I had read, (somewhere, I have forgotten the source) the plants this time around, were harvested before the flowers were in full bloom. The plants are sowing themselves freely in my garden now, and pop up like weeds. I was glad to chop them down. They were about 5 feet tall. I harvested a good arm full. The chickens are always interested in Amaranth of any kind....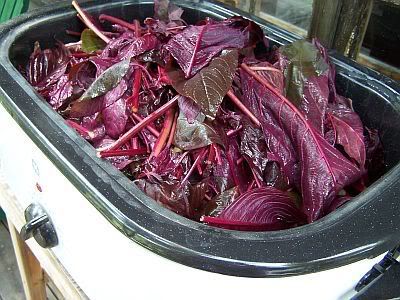 I chopped up the entire plant, leaves, stems and flowers...and filled the turkey roaster with enough water to cover.
I cooked it down until the leaves lost all of the color. Then the entire pot was strained, and the cooked amaranth was served up to the chickens, who ate it right up while it was still steaming. It smelled like cooked spinach.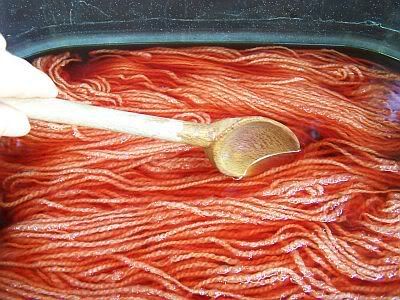 The day before, I had soaked my wool (Farmer Dave handspun) in a premordant of alum and cream of tartar...and let it stand overnight....it was ready to go into the dye bath. I let the wool simmer in the bath for about an hour, and then turned off the heat. It looked promising. The wool was allowed to cool and set overnight.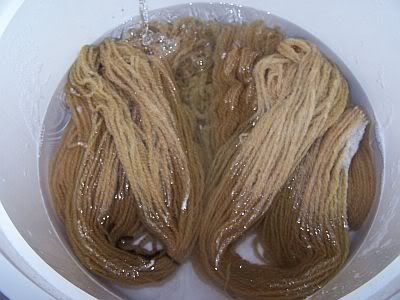 The next day, I noticed the dye did not exhaust....but I have never had it do that in the past either. The dye did strike, but alas, I was rewarded for my efforts with a mustard brown color once again. If anyone knows what I am doing wrong, or if there indeed is a way to achieve a red color on wool (not cornbread!)- please send me an email...you can find my address on the side bar.