My walk happened on Tuesday this week. Today I didn't get to take a walk, we had a much needed rain shower. I had my laundry out on the clothes line and it got very wet, but that is ok. It was only a washer load of bath towels, and they can do with a rainwater rinse.
And so it is late spring, and there is pause to notice the subtle changes as we move into summer. A walk around the riverrim is a perfect time to notice the changes. The ground is soft now, I can wear my moccasins. They don't make much noise when I walk. And they aren't the best shoe for providing traction, so have to keep on the deer paths, or the road.
The Foxglove are blooming, and the Mountain Laurel is covering the ridge. I had been wondering why the fawns were so late this year, and worrying about them. Usually, I see them in late May. I have seen a few young buck~ their antlers are beginning to grow, and they are in velvet...but no fawns. I saw a what I thought was a yearling doe and made a little movie of her.
I followed her for a little bit, walking deeper into the woods...wondering about how it would feel to be an Indian. I start thinking about Indians a lot when I wear my moccasins in the woods. So anyway...the best part of the walk was when I got home.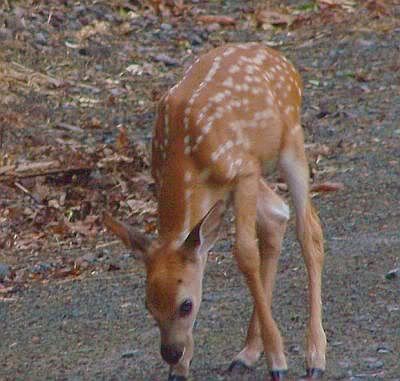 I finally saw a fawn!Right out front on the road! So the circle continues...and another spring is coming to a close.