...the red ripe Ribes are ready for the picking! ..."and make sure you wear your berry picking clothes"...I can hear my mother reminding me. As a kid, I used to go blueberry picking with my mother, she used to tie a belt around my waist, to hold the pail in place so I could pick berries with both hands.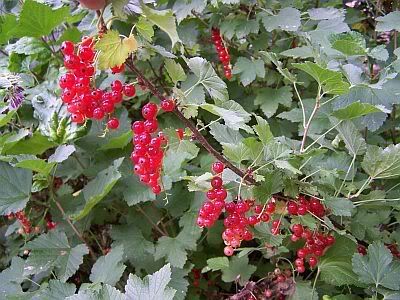 The bushes are laden with fruit..currants are self fertile and the fact that I had I pruned these back late last winter seemed to help them produce the most wonderful harvest that I have seen in years....well, that and the fact that I covered them this year...the birds adore the currants too! I don't know the cultivar because these currant berry bushes were a gift from a friend, who suddenly showed up with the transplants one day. Years later, I still find myself thanking her as I pick the fruit.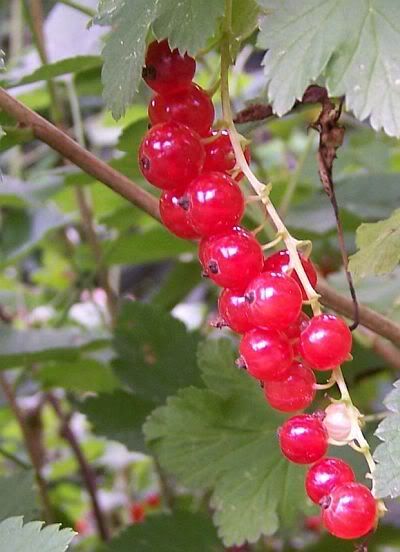 See the beautiful strings, like red pearls...little jewels, translucent and shiny...you don't have to pick off each berry, just pick the strig (the main cluster) between your finger and thumb...
it is ok to get the unripe ones, they contain the most pectin, and that helps the jam to jell. Later on, after we get inside and rinse them, we can roll the berries off the stems.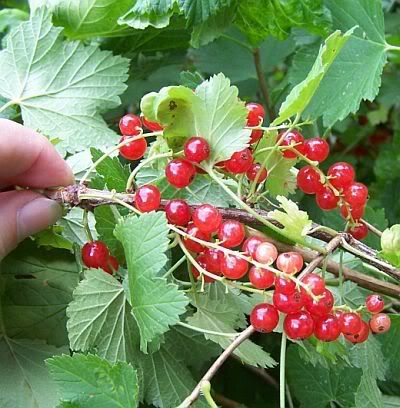 Currants always seem to ripen when the weather is hot and humid which makes harvesting them a tedious job. It is good to have someone to pick with, someone to share the beauty of the day with...it also helps keep your mind off the work. And picking currants is work! After picking a few hundred of these gems, the sweat rolls down my back, all I can think of is the hotness of the sun, bees and other various insects buzz past my ears... my hands become sticky and smell of the currant's juice (for the rest of the day!)
There are rather a lot of seeds in each little fruit....and they are too puckering tart for me to eat from the bush. Did you know that at one time, back in the 20's I think it was, some members of the Ribes family were banned? They were thought to spread a blister rust disease to the white pine. Maybe that is the reason you don't see many currant bushes around.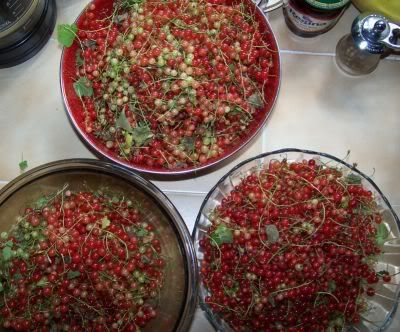 I filled the berry pail many times over, and have a great yield! I'm dirty, sweaty, covered with sticky currant juice, and feel like I have bugs in my hair! Last one to the river is a rotten egg~~ and since I'm the one who knows the path, I'm guessing that will be you!