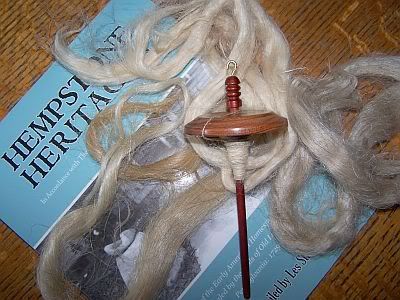 I have just returned from a 4 day "get away" that was not long enough. One of my days was spent enjoying the company of other spinners at a workshop at the Manning's, located in Adams County PA. The Workshop was entitled "Spinning in the Old Way".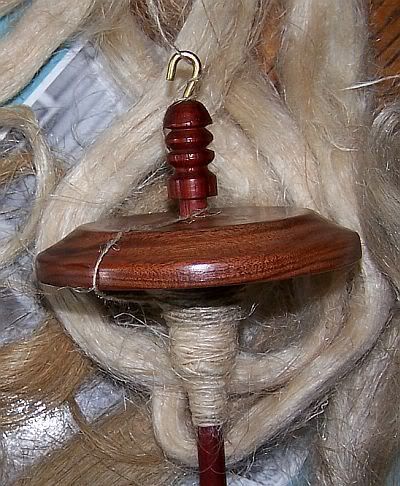 Among the many things that were discussed and played with, were flax, flax tow and hemp. The flax strict has the very golden tone to it, with the flax tow appearing to be a silvery gray. The hemp is a creamy white color. All of these fibers in the photograph above have been commercially processed. Even so, they glisten like silver and gold. The spindle contains a bit of the flax tow and the hemp, you can see the subtle differences. Both were spun dry.
I have become extremely interested in the history surrounding the growing and processing of Hemp in nearby Lancaster County, and wound up purchasing the first book in the heritage series. I hope to get a chance to post my photos of the trip later this weekend. Right now, I need to go out to the garden and replant the corn, as the chipmunks have eaten all but eleven plants. I cannot believe the severe damage that the chipmunks have inflicted on the garden this year. I may be forced to set traps.