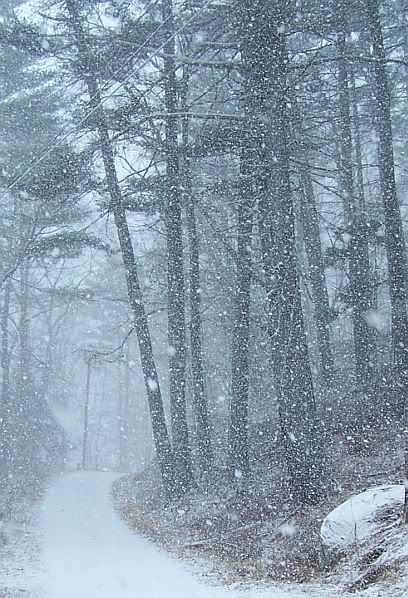 We have been having cold and squally weather! Yesterday, I went out to do the chores, and got caught right in the middle of a squall that was passing through. It was the first real snow fall I have seen so far this winter.
The rabbits water is freezing continually. I need to make several trips a day, with the hot kettle in hand, to melt off the ice in their crocks, and supply them with fresh water. I have also been leaving apple and celery slices with them overnight.
I leave the kettle on the woodstove so the water will stay warm. The stove takes center stage in weather like this. The Mr. and I are different in the methods that we practice to tend the coal fire. I am more of a "shoveler", where he is a firm believer in "pouring it on" style. The stove has been burning steadily since early November...it has a life of its own.
I find myself devising plans to stay close to the stove in this cold weather. I made a nice batch of wedding soup and some baked apples for desert last night. Baking on the stove is a little bit of a trick. It helps to have several different thermometers...one for the stove pipe, one for the stove top...and one for inside a dutch oven. After a time, you get to know your stove, and how it should look and feel when you want to cook certain things... When you cook on a woodstove, things take a little bit longer....but they smell and taste really great, and pretty soon you notice that people are hanging around the stove. I sometimes move my spinning wheel near the stove....to keep my eye on whatever it is that I am making.
Another benefit of having a stoked stove is that it makes a terrific dryer. I have been washing up wool, in the evenings again. Right now I am working my way through some Black Finnsheep, which is splendid! So, winter is good.
Oh, and I fell down a few rabbit holes ...while working on the Gunnister Man's Pouch..but that is a story for another day.