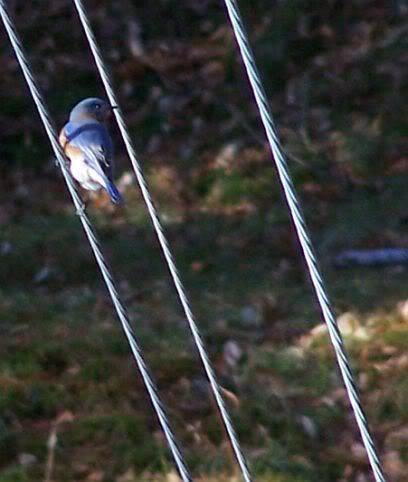 I had some pleasant company today on my walk, a small flock of bluebirds. I counted about 8 or nine. They are so full of motion, my lens hardly has time to focus.
It is a true delight to see bluebirds, they don't live nearby, preferring a more open area than the woodland I reside in. They are meadow birds. However, they do come by occasionally, to feed on insects or fruit. They will not often come to a feeder, they aren't considered to be seed eaters. They were foraging on the hillside today, and I also noticed them eating the barberry.
Some believe that the bluebird is a harbinger of happiness, love and hope. I embrace all that the bluebird symbolizes and read it as signal for the coming year, and thank them for bringing it my way...and to you as well! Happiness, love and hope, to you and yours in the coming new year!
I have completed another Andean head band, correctly this time.... made from the Icelandic that I spun on the Great Wheel, and a bit of Wensleydale that I spun up over 3 years ago. I have been sorting through all my old bits and pieces to use up while practicing color work.