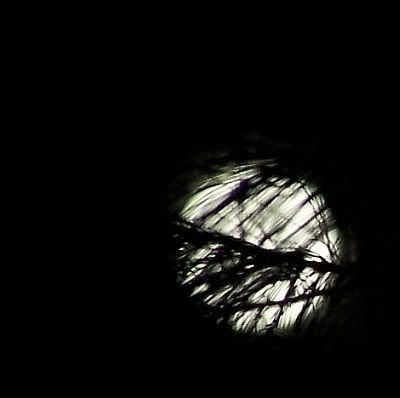 Hear what I have to say .....

Just like children sleepin .....

We could dream this night away. .....
But theres a full moon risin .....

Lets go dancin in the light.....

We know where the music's playin ....

Lets go out and feel the night." ....
....so begins the song Harvest Moon by Neil Young. I have been watching this harvest moon rise over the mountain for the last 3 nights. It is beautiful. My camera cannot capture its beauty. When we went out to feel the night, it was beautiful too. So mild, yet crisp...the smell of the hearth fire burning...the quiet rush of the river water...night time.
The Full Harvest Moon is always the full moon that occurs closest to the Autumnal Equinox. This year, it comes to us in October.
I went looking online for harvest moon information, and learned about moon trees. How have I lived for these many years, and not known about moon trees?
For more full moon info..check out full moon fever...