m is for Muckle...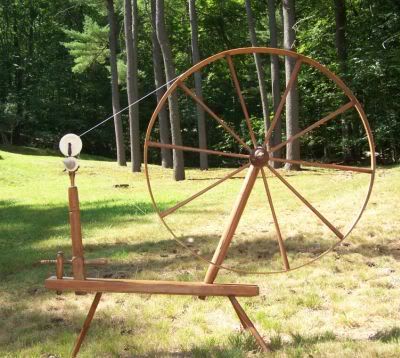 Now it is an interesting thing about the origin of the word of Muckle...I believe it is (Scots English)...and to define the adverb, it would read something like " much, or a large amount..a great many...or great." Now, my wheel is probably not from the Highlands...but it could be considered a Muckle wheel....(at least for this entry for my abc along...mostly because I used G for Garden....)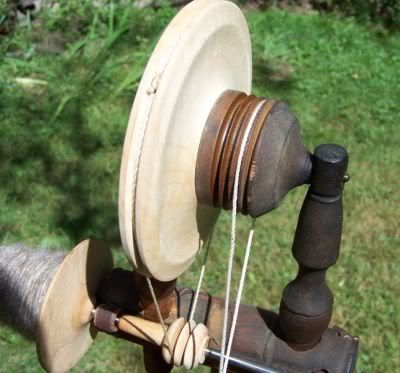 M is also for Minor's Head...there are 4 grooves on my Muckle's Minor's Head. Originally, my wheel had a broken wooden copp disk. My wheel was restored by
Fred Hatton
, who has restored more than a dozen antique wheels, including several great wheels. While working on my wheel he also restored the axel, and the spindle on the wheel...now she is spinning like a dream.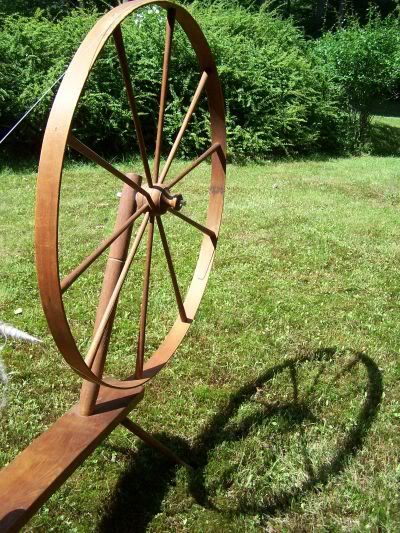 Dreaming is something I do a lot of while spinning on this wheel. I dream of the person who made the wheel, the people who have spun on it...the miles of yarn it has spun and who will spin on it after I do. It reminds me of a song by Neil Young about a guitar. The lyrics speak of the object as being old and passing through many hands....I sometimes change the lyrics to suit me....I sing it for my wheel...."This old wheel ain't mine to keep, it's mine to spin for awhile. The more I use it the better it spins, it cries when I leave it alone....silently it waits for me, or someone else I suppose."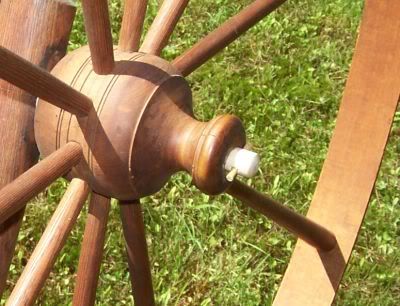 My wheel is pretty old, I think it is over 200 years old. It has a wooden hub. I think the wood on the wheel portion may be Chestnut. The bench still has a bit of the bark of the tree on the underside. Yep, I think my wheel is pretty great...er...muckle...