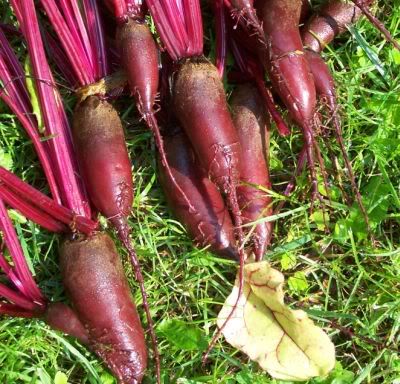 These are cylinder beets...this season is the first time I have raised these beauties. I had been reading about them, and figured it was time to give them a try. I like them very much, and they seem to be a hit with the guys, so I will raise them again.
The size is somewhat like that of a small Nantes carrot...the fingerling type...and they are quite tender throughout. I decided to raise them because the description promised a tender beet, that would freeze or process well. I do not have the time available to devote to canning these beets, but I will be freezing some because the crop is bumper baby! Another plus...the tops make good eating when they are young.
My favorite way to eat beets is to roast them, but during this current heat wave, I will pass on turning the oven on. We will have ours steamed. Again.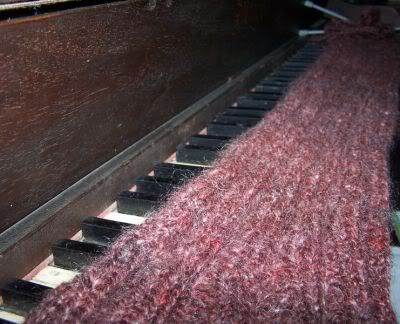 I am almost ready to bind off this scarf that I have been working on. It is from a 2 ply mohair blend, and is thick and cushy. It has been a mindless knitting project that has been worked on during my recent time spent in waiting rooms for different appointments. I has received many comments from people, but mostly, "how can you knit in the summer?". I cannot imagine not knitting in the summer. I admit that I get motivated more to knit in the fall, but I cannot imagine stopping a project because it is summer and warm outside.