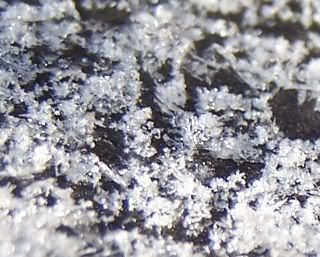 The river was snowing on the rim this morning...so I tried to take a close up shot of the crystals on a black surface...
It has been below freezing around here lately, but it was a beautiful morning with crisp blue sky...and I noticed the river has been freezing up along the rim.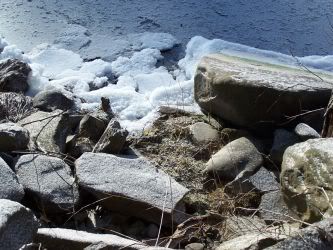 I stand next to the water, watching it flow past. The cold snap has been making the water freeze around the rocks near the shoreline...you can see the channels of fast water that are starting to form.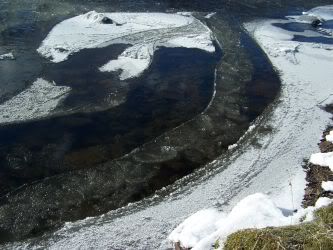 The day is early and I am aware of the few sounds around me. I hear a cardinal and the occasional crowing of my roosters coming from the hen house. Other than that, it is quite still, and I notice that the ice flowing by is gently scraping against the ice on the shoreline...it makes a soft brushing sound.
Staring at the ice flow, I am mesmerized by the constant motion, and it suggests to me the same rhythms of the movement of fibers, flowing through my hands while spinning at the wheel.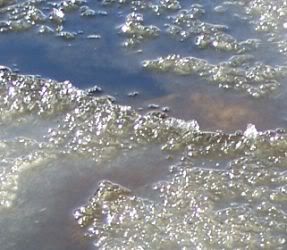 I am becoming very aware of texture, and realize that in these late days of winter - with all of the gray colors...that texture is easier to see than in springtime when all the color dominates the landscape. It is a great time of year to take notice of the texture and its beauty..seen here on the bark of this river birch.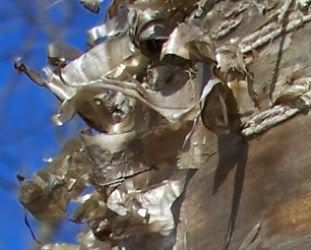 Realizing how cold it really is, and that I didn't "layer up"...I climb the hill back to the house.
I have finished the 2/2 twill, and notice how gray that is too!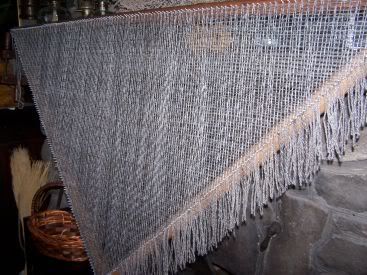 Funny thing about this piece, all the crimp and curl of the Border Leicester locks returned to the yarn after I completed the fulling process. It gives the finished piece a texture all its own that was not visible while it was on the loom.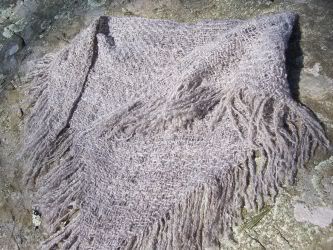 It almost looks like it was done with a boucle yarn...so...I am happy with the outcome, but it was a surprise, and not something I planned on happening. I was thinking the 2/2 twill would be more pronounced...but I guess the texture is ok...