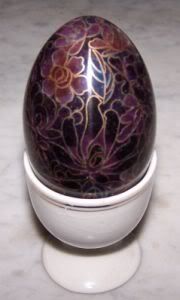 Each day, I collect, wash and pack eggs. And daily, I admire the simple, yet complex beauty of them. Over time, I have come to know which egg is laid by which hen. There are subtle changes that happen... day in and day out...size, color, shade, texture and overall shape...none of which detracts...but only adds to my fascination. Have you ever seen a wind egg? Wind eggs happen when the young hen or pullet lays a small egg without a yolk.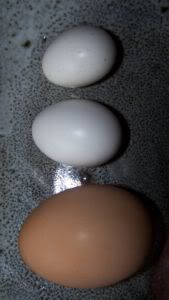 And so, it is not hard for me to understand why the simple loveliness of the egg has been symbolic to many different cultures, customs and belief systems through out time.
When I was a kid, my father practiced a custom he called "picking eggs"...something he told us he used to do as a kid. He would call out, "Who has an egg?" This would be a challenge that would send my siblings and I running to our Easter baskets to select an egg we thought would be worthy of the game...which basically involved holding your egg firmly while the opponent would tap it without breaking his own. We would pick eggs with the entire family, and out of all the eggs - would emerge one champion egg. Sometimes that egg would bear the battle scars of a cracked butt or tip..but it was a champion egg nonetheless. When I was 16, my father gave me this egg (shown below) in my Easter basket.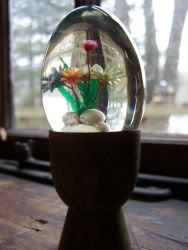 It has become one of my treasures, and brings back fond memories of "picking eggs" when I look at it.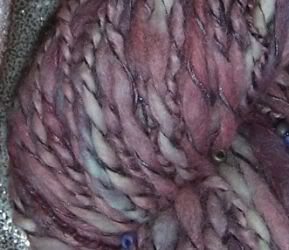 "e" is also for experiment...something I did yesterday with the yarn that I spun from the silk hankie....by stringing some beads on it and then plying it with some thick and thin spun wool that I dropped into the dye pot with a little kool-aid sprinkled on top! As it stands by itself, I like it...yarn for yarns sake. But I am not quite sure what to do with it. The experiment only produced 68 yards. Guess, I will have to experiment some more....