"Of all the wonderful things in the wonderful universe of God,
nothing seems to me more surprising that the planting of a seed
in the blank earth and the result thereof. Take that Poppy seed,
for instance: it lies in your palm, the merest atom of matter, hardly
visible, a speck, a pin's point in bulk, but within it is imprisoned a
spirit of beauty ineffable, which will break its bonds and emerge
from the dark ground and blossom in a splendor so dazzling
as to baffle all powers of description."
- Celia Thaxter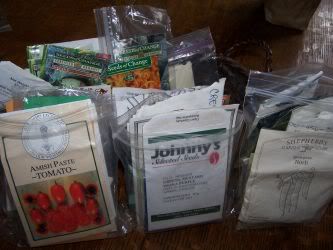 Finally getting around to going through my seed basket, and figuring out what I need to order.
I am a big seed saver, and have been growing as many OP and heirloom types as I can-- for more years than I care to admit! As I sort through the basket, it seems a lot like sorting through old photographs or letters...because I remember when I brought the seed, or who gave it to me, or why I ordered the particular variety. I save seed for more reasons than just to plant it. I save seed and plant seed that has some significance to me ...either spiritually, culturally or historically...so most of my seeds are like a snapshot of my life that can only be viewed by me.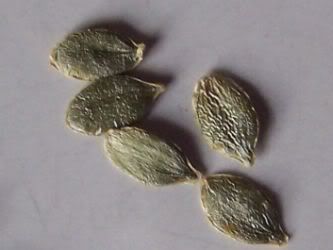 Since I am a big believer in bio diversity...I buy seed like I buy wool...checking the market for rare seed (rare breeds). Like the breeds of sheep, types of seed are disappearing because they are not popular to the grower. This year I will order just a few new (old) varieties to plant alongside some tried and true favorites for my vegetable garden.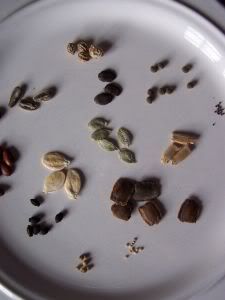 I have a few germination tests to do before I plant. Some of my seeds have been sitting 10 years or more, and its time to see if they are still viable. Did you know the
record life span for seed longevity is held by a species of lupine, (Lupinus arcticus)? Those seeds were found in the Arctic permafrost and they germinated after 10,000 years!
Compare that to The seed of the Silver Maple. That seed only lives for about a week before it looses its ability to germinate.
"So I sing to my seeds. What about it?"
- Leslie Gaydos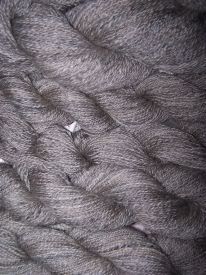 I have finished spinning all of the Border Leicester. Totals equal 1278 yards and 26.4 ounces. The remaining basket of "waste" (or the combings that I cleaned out of the dog slicker) were blended with the angora that I combed out of Jack recently.