This morning while doing chores, I got to witness one of life's little miracles when I entered the hen house at the exact moment that my hen was dropping an egg. Hens have to stand up just before they "lay" their eggs. So my hen was standing up and depositing her egg in a position where I was the very first living creature to see it. I saw it before the hen did!
Want to see it?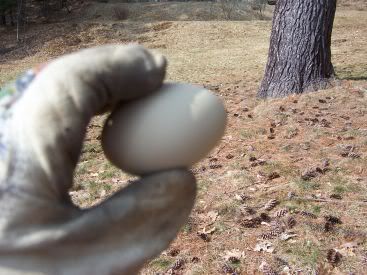 It was still warm, even through my gloved hand. What a world,eh? One minute I am the only pair of eyes to see it, next minute people half way around the world view the same thing... notice all the pinecones on the ground....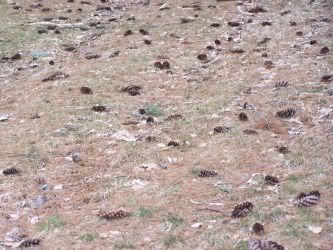 Pinecone harvest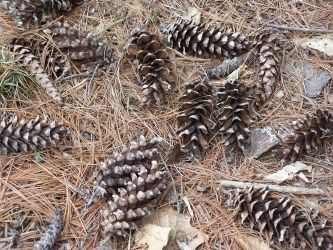 Pinecones are everywhere since the last big wind. (That is, the wind that took out a portion of fence around the garden). I figure there is a pinecone every 10 inches. I am tired of stepping on them and feeling them crunch under my feet.
What to do with all the pinecones...I recall my neighbor telling me that her great-grandfather would collect them and sell them down in NYC to the florist...and then pay the taxes on his land with the money from the pinecones. Maybe...in a perfect world...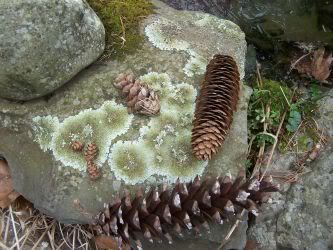 The smaller ones come from the hemlock...the large ones are from the spruce and white pine.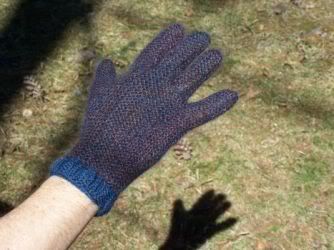 A pair of gloves came to visit me. I knit them from some of my early handspun, back in 2002. The pattern was the sideways gloves from the cover of the winter Spin-off. I had given them to my brother, and like so many things forgotten I had made them. I was delighted when they came back for a few small repairs. The yarn was thin in places, and was not wearing well, so I darned those troubled spots first. Then, because he mentioned he was used to a cuff, I added one in a contrasting yarn....well.... I didn't have any of the original yarn leftover.
(It was a Wensleydale top roving that went by the name of ocean mist...but I could not even remember where I had originally purchased it.) He seemed to like the alteration very much.
Oh, and he tried the earflap hat on, and went home with that too. He didn't take off, even while he was inside, but tied the flaps up on top of his head. Guess he liked it.