I have finished my sample prewarp pieces on the 3 foot triangle loom. I just tried two of them, so that I could get an idea about how they would look, and if I needed to trouble shoot any areas, and also the amount of time involved in completing them.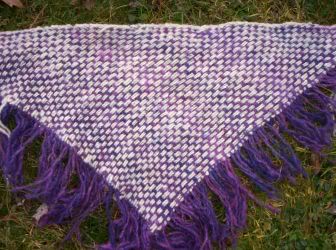 This first one I tried was made from some of my first lumpy handspun (I think it is from Finnsheep, but I am not really sure). That is what I used to warp the loom. Then I went back and wove the weft with a blend of Finn and Angora that I dyed this past summer. The Finn took the dye rather well, and became a rich ultra marine blue, and the Angora (in the same dye bath) turned out to be a reddish purple...but when I blended them together with my handcards I was happy when it spun up to a nice color. It toned the purple down and jazzed the blue up. I used Createx Permanent Liquid Fiber Dyes, and a salt mordant. Not sure I liked what the salt mordant did to the wool, it seemed to make it just a tad brittle, compared to what it was originally, but really not enough to make it objectionable. The bias weave shows up clearly because of the stark contrast.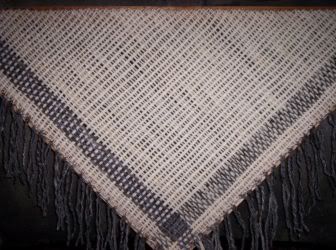 This next neck scarf was done out of the wool I spun during demonstrations and workshops this past summer. The wool is entirely Finnsheep from the
Hatton Farm
. It is so very soft. I tried to make a chevron pattern, and it worked out ok...but because of the bias weave, the color is not consistent on both sides of the scarf. I will need to take this into consideration when I decide future projects....it has the potential to be a good thing...or an undesirable factor.
Saw some snow flurries this morning while I was letting the chickens into the garden...MY HEAVENS! (you say) CHOOKS in the GARDEN!! Well, yes, it is true. I had no choice...we have contacted someone who not only has his furtrappers license, but also a permit to take bobcat. Now this is extremely difficult for me, but we seem to have more than one coming around...and my chickens, the cat, and even myself are at risk. We really have no choice...they should not be coming down the mountain and hanging around this close to the house. Anyway, the chickens are locked in the run, and only allowed into the garden during the day. They are cleaning up the last of the tomatoes etc, but destroying my kale :-(.
I picked the last of green peppers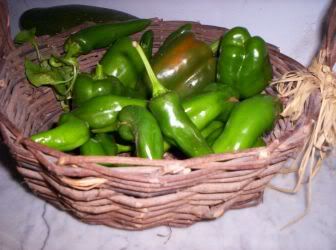 and the marigolds that I had wanted for the dyepot. The temps are projected to fall into the upper twenties tonight, so it was time.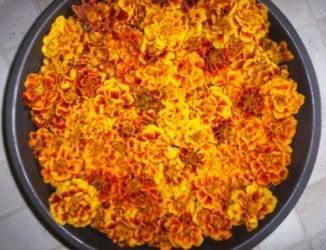 A special thank you goes out to all the Veterans- (That includes YOU MOM!)--- and don't forget, tomorrow is the last day to send your packages out to the troops so they can get there by the holidays (Dec. 9th if it is priority)