On June 11th, I had the chance to attend The Mannings 37th annual Spinning Seminar. And I jumped at the chance, having only had the benefit of attending this event only once before, and noticing that Elaine Harvey and Susan Withnell were going to speak about Angora Rabbits, I was very happy to find myself in southern PA that very weekend.
This free seminar is a wonderful event that The Mannings host every year on the second Sat. in June. You can check their web site by
clicking here
- and view the variety of demonstrations that were available that day. The seminar really gives people an opportunity to see and learn about fiber arts that they otherwise may not, and overall, its just provides a fun day of learning and inspiration.

As soon as I arrived, I saw Sharon Peffer with the Great Wheel Exhibit.
I watched her spinning on what I learned was a Norman Hall Great Wheel Reproduction. Apparently, Norman Hall does not make Great Wheels anymore, and to get a Norman Hall wheel, you would need to get on a waiting list (for at least 5 if not 7 years!)..so this was indeed a special wheel. It had beautiful carvings in it too. Sharon was nice enough to spend a little bit of time teaching me how to spin on her wheel. She explained about Minors Head's and Bats Head's and recommended some good books to read. All of this was of great interest to me because I have recently become the proud owner of an old Great Wheel. (more on this in the next post) I tried drafting a bit while Sharon turned the Wheel, and I realized that learning to spin with one hand while the other hand turns the wheel is going to be a challenge. Here is a picture of the Norman Hall wheel that Sharon was spinning on.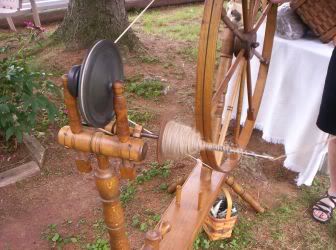 After the Great Wheel Exhibit, I made my way back to the area where the Angora Rabbits Demo was beginning. Elaine Harvey had her bunny (a chocolate Senior English angora buck- by the name of "GC CCR's Hershey") up on a grooming table.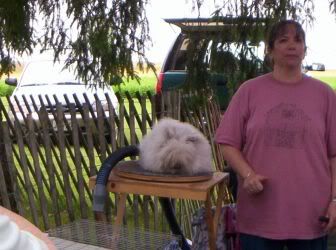 She was explaining how she uses a special blower on her bunnies to maintain their coats. I have read about this, but never saw anyone doing it, so I learned that you should use a professional groomers blower, and never a hair dryer- and that you would work from the bottom up while holding the head and ears. Hershey was very cooperative about the whole process, and entertaining as well. His coat was such a beautiful color, and so full and long, the pictures do not do it justice. To read more about Elaine and her rabbits, you can click here to see her
web page
, or
here
to read her blog.
It was starting to get crowded and I realized that Susan Withnell was starting her demonstration. Susan brought a 2 year old, pure German, Angora doe named Gretel. She was white, white, and had a lovely long coat that Susan was demonstrating how to clip.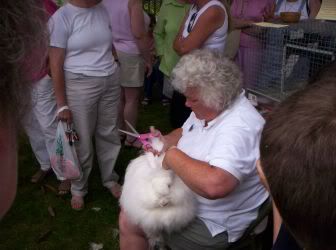 Even though I have been clipping my rabbits for a few years, I learned some really good tips....the best one was on turning the scissors slightly away from the skin while clipping. I could see how this will make a difference, and am anxious to try it out next time I clip Jack. Susan explained about how she parts the hair down the middle of the back, and works from the top down. She is very skilled with the scissors, and handles them like a NYC hairstylist. Her bunny was very well behaved too, especially on such a hot day with so many people crowed around. You can read more about Susan and her Fiber Arts by
clicking here
.
To top off my day, I went inside Mannings to make a purchase and found a book that I thought was out of print (on needle felting). A friend had loaned it to me once, and I could not remember the title or author, only that I liked it....so when I spotted it I snatched it up.
So ...those are just some of my highlights of another very nice Spinning Seminar at the Mannings....see you there next year, second Sat. in June..rain or shine!