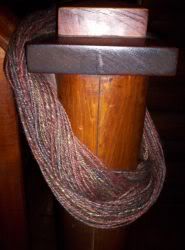 This is the mohair roving that I purchased at MS&W, from Greta Dise at Persimmon Tree Farm. She really blends the colors nicely, and it is always a nice experience watching how the fibers spin out. I spun a single, and used a Navajo ply to make a nice puffy 3wpi yarn. I plan on using it to weave on the 3 foot triangle loom, and perhaps adding some beads that I found to embellish the fringe.
It is appropriate that I was finishing this yarn on the same day that I planted my corn, because it goes by the same name....Indian Corn. I planted a total of 3 different varieties of corn this year, all of them have different harvest times, and so different pollination dates, therefore, I should be ok planting them in close proximity to each other without having trouble with cross-pollination. I don't want a kernel of Indian corn winding up in my sweet corn, and visa versa.
First, I planted the 100 day "cutie pop" from Stokes. It claims to be an ornamental popcorn, that looks like miniature Indian corn. The ears are only 5 inches long. Since I had great success with popcorn before, I decided that by popular demand (Christmas present recipients) I would try it again.
Second, I planted the 80-90 day "True Platinum" sweet corn from Seeds of Change Organic. I have been waiting for three years to get this seed. It sounds like a beautiful plant..."Sweet and tender, excellent flavored cobs wrapped in burgundy purple husk- 6 to 7 feet tall with 8-9 inch ears." Who could resist?
And last but not least, an early sweet corn called "Cloud Nine" from Stokes, calling for 77 days. I will be marking my calendar, and seeing if it clocks in on time. We experience many cool nights around here, so if it is late, oh well.
So, now that it is finally June, and things have warmed up enough for the corn and beans to be planted, some other critters have been seen enjoying the warmer weather...


a frogger at the pond


garter snake in the garden,
and the new addition...Buttercup...who has come to live with us. I cannot believe we are owning a cat again, but she needed a home.