april showers brought flood waters back to the riverrim last weekend.
High water marks were close to what they were during hurricane Ivan last fall, despite rumors that they would eclipse the flood of '55.
Thankfully, we remained dry except for a little water in the basement.
This was not a big rain, we were just saturated with snow melt and spring rain, and run off. The Delaware River overflowed it banks, and created damage all the way down through NJ. So many people are dealing with flood aftermath now...my heart goes out to them.
The riverrim has undergone a remodeling of sorts. I am forever in awe of the powerful force that water is. 75% of the earths surface is covered with water. 70% of the human body is water. It is the fluid of life and it can take life. It can be a blessing and a curse. I wonder about the millions of gallons of water that pass by the riverrim and where it all goes....from time to time the river deposits little offerings on the riverrim. Some of my favorites include a piece of broken ceramic ?? with the date Dec 21, 1897 Iron Works N.Y. and a pair of old wire rim spectacles. Most often I find old fishing lures. Once we found a brass bed headboard! The high water has not receded enough for me to walk the rim and see what new treasures may be there to glean.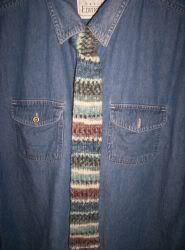 This week I finished working on a tie from Interweave Knits,
winter '05
issue. The pattern is very easy to work, you could do it with your eyes closed. I used Opal Southwestern Sock Yarn. I gave the finished tie as a birthday present. Actually, it was the recipient's idea that I use the sock yarn to make a tie. He had seen me working socks, and holding one up to his shirt, remarked that the pattern would make a nice looking tie. It was at that precise moment that I remembered seeing the pattern for ties in the magazine. The pattern repeat yarn worked out pretty well over the thirty some stitches required for the tie...however there are a few spots where it did not work evenly. The hardest part of the project was the finishing. Perhaps this is due mostly to the fact that I am not a "good finisher"... and need to study up on some good finishing techniques. I will be making more of the ties, they go fast and make nice presents for guys.